The Sustainable Development Goals in Egypt
The Sustainable Development Goals are a global call to action to end poverty, protect the earth's environment and climate, and ensure that people everywhere can enjoy peace and prosperity. These are the goals the UN is working on in Egypt:
Story
30 May 2021
Egypt, UN review 2020 achievements, discuss upcoming  development cooperation plans
The National Joint Steering Committee responsible for overseeing the implementation of the United National Partnership Development Framework (UNPDF 2018-2022) met on Sunday to review 2020 achievements against national development priorities and the Sustainable Development Goals and to discuss upcoming development cooperation plans. Held at the premises of the Ministry of International Cooperation, the meeting was convened by H.E. Dr. Rania El-Mashat, Minister of International Cooperation and Ms. Elena Panova, UN Resident Coordinator in Egypt who together co-chaired this group meeting to review the UN's contribution during 2020 to sustainable development in both the COVID-19 response as well as across the pillars of the UNPDF: Economic Inclusive Growth 'Prosperity', Social Justice "People", Environmental Sustainability and Natural Resource Management "Planet" and Women's Empowerment "Women". Despite the challenges imposed by the COVID-19 pandemic during 2020, the UN system in Egypt in collaboration with the Government of Egypt (GoE) were committed to progress with their development plan with the aim of advancing and accelerating their commitments towards the achievement of the the sustainable development goals within Egypt's Vision 2030 and acted swiftly to readjust the joint programms to respond to the emergent situation and to support a better recovery. With a special focus on the 'Economic Inclusive Growth' pillar that is co-chaired by the Ministry of Planning and the United Nations Industrial Development Organization (UNIDO), the UN in Egypt has partnered with the Egyptian Micro, Small and Medium Enterprises Development Agency (MSMEDA) to facilitate the provision of financial and capacity building services, launched a national survey about the national Micro, Small, and Medium Enterprises MSMEs conducted in collaboration with MSMEDA, the Central Agency for Public Mobilization and Statistics (CAPMAS) and established the Dairy Hubs in Al-Gharbia Governorate Project, which executed by ILO in cooperation with the Ministry of International Cooperation. On the 'Social Justice' pillar that is co-chaired by the Ministry of Social Justice and UNICEF, the UN in Egypt supported the development of the national Action Plan for Ending Violence Against Children and National Child Protection Case Management Standard Operating Procedures (incl. children on the move, protection in emergencies) and the development and implementation of the new Universal Health Insurance Law. Children and their families receiving cash assistance as an alternative to school meals (due to school closures In addition, technical assistance was provided to expand Social Protection Schemes. Targeted interventions addressed migrants and refugees who received nutrition assistance and health services, improving access to fresh water to households , youth and adolescents engaged in youth-led initiatives in their communities, health staff trained through on-line sessions on key topics related to COVID-19 and Personal Protective Equipment (PPEs) were supplied for front line health workers. Focusing on the 'Environmental Sustainability' pillar co-chaired by the Ministry of Environment and the World Food Programme (WFP) , 2020 witnessed the launch of the National housing strategy, drafted the National urban policy, updated the Sustainable Agriculture Development Strategy (SADS), the revision of the environmental law was supported and the joint UN assessment of the impact of COVID-19 on agriculture, food and nutrition security in Egypt. Multiple programs addressed small holders' farmers who got trained on climate change adaptation measures. A huge support to the promotion of eco-tourism through the presidential three- year initiative "Live Green" as well as financing projects that works on promoting solar thermal technology in industrial sector. Moreover, there were lot of activities that targted companies to adopt green and circular measures/systems, extended the services of "El Mufeed" digital agriculture and launched of "Our health is our capital" campaign. And on the 'Women's Empowerment' pillar co-chaired by the National Council from Women (NCW), UN Women and International Migration Organization (IOM) , the UN System in Egypt supported wide range of national policies including the development of the National Action Plan of FGM and the drafting process of the National Action Plan on the implementation of the UN Security Council Resolution 1325 on Women, Peace and Security is being extensively supported. The National Review of Gender Statistics was completed and Line ministries statistical units capacitated on gender sensitization and statistics. The support provided to women through the Women's Citizenship Initiative, obtaining national identification documents and gain access to services. The development of the Action Plan for the Gender Unit at the Ministry of Manpower. In addition, Knocking Door Campaign on elimination of FGM implemented by the National Council of Women (NCW) was supported . Interventions to advocate for adopting gender inclusive policies in private sector companies was carried out. In addition, women's financial inclusion programme was launched, a rapid gender assessment on social and health impacts of COVID-19 on women living with HIV and a rapid assessment on the impact of COVID-19 on women receiving microloans were carried out and the maternal health care staff trained through online training workshops on improved quality of HIV testing among pregnant women. Minister of International Cooperation, Dr. Rania Al-Mashat, praised the strategic partnership with the United Nations in Egypt, explaining that the United Nations in Egypt and its affiliated agencies and programs have always had a strategic role in supporting the state's priorities in various fields to enhance national efforts aimed at achieving development, and in 2020 during the Corona pandemic, relations between the United Nations and Egypt witnessed a significant development, as a result of the reorientation of various relevant partnerships in order to meet the requirements and priorities of the country to confront the Corona pandemic. From her side, Ms. Elena Panova, the UN Resident Coordinator in Egypt stated; "we are happy with the strategic and outstanding partnership with the Government of Egypt on delivering together on the achievement of Sustainable Development Goals (SDGs), this commitment enabled us to mobilize USD 192.3 million for the implementation of 2020 UN joint activities in Egypt." She added; " the continuous engagement and cooperation between the entire UN system with the Government counterparts in Egypt, development partners, civil society, and all stakeholders is the key behind achieving tangible results in advancing and the sustainable development agenda, Egypt's Vision 2030 and the African Union's Agenda 2063."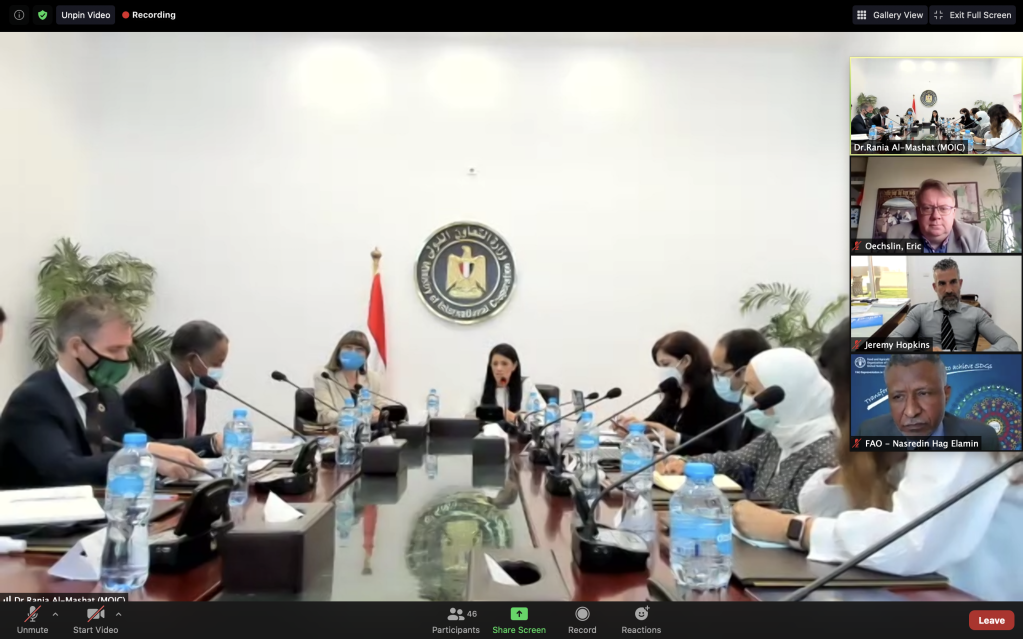 Speech
05 October 2021
SDG Joint Fund Component 1 – Egypt SDG Financing Strategy Government of Egypt-UN Steering Committee Meeting
Excellencies, distinguished ladies and gentlemen, It my great honour as the co-chair to welcome all of you to this steering committee meeting of the Joint Programme titled "Egypt SDGs financing strategy" funded by the UN Joint SDG Fund. Five UN Organizations, namely, ILO, UNCTAD, UNDP, UNICEF and UN WOMEN, are jointly implementing this programme in close collaboration with the Government of Egypt. Let me express the sincere gratitude to H.E Dr. Hala El-Said, Minister of Planning and Economic Development and team from the Ministry for the exemplary leadership and guidance on this joint programme thus far, in their capacity as the Government focal point for this joint programme. The presence of Ministers, deputy and assistant Minsters and top management from 13 Government entities today shows the commitment Egypt places on SDGs and SDGs financing. As the UN system we highly appreciate this level of ownership and collaboration. Let me also warmly welcome Dr. Mahmoud Mohieldin, Executive Director at the International Monetary Fund and the United Nations Special Envoy on Financing the 2030 Agenda, who is the best resource person to deliver the keynote address on the theme of SDGs financing. As opening remarks to this committee, I want to highlight three points:
Firstly, the world urgently needs to focus on financing to salvage the SDGs
: Globally even before the pandemic the world was not on track towards financing of SDGs. In Africa, UNCTAD had estimated an annual SDG financing gap of $200 billion prior to COVID. As Egypt's VNR 2021 shows, COVID-19 has further exacerbated this situation by slowing down the progress towards SDGs while dealing a heavy blow to the various financing flows towards SDGs. The preliminary estimates of recovery cost from COVID-19 for Africa is billed at $154 billion adding to the pre-existing financing gap of SDGs
[1]
. Hence, we need to focus on SDG financing more than ever to bring back SDGs on track. This joint programme provides an opportunity for us to do just that.
Secondly, convergence of processes will be the key to enhance SDG financing in Egypt
: Egypt has always been a front-runner when it comes to SDGs implementation and SDGs financing. There are several significant efforts made by Egypt with regard to SDGs financing. Egypt is already experimenting and exploring with several innovative financing instruments to finance SDGs. For example, under the leadership of Ministry of Finance, Egypt was the first country in the MENA region to issue the Green bonds last year. The proceeds from these bonds are earmarked for several SDGs. IMF conducted some preliminary costing of selected SDGs for Egypt, which supported to the development of the medium-term revenue strategy (MTRS). Further, UN is currently exploring with the ministry of Finance the issuance of SDGs-linked Bonds and development of a framework to support the same. The Ministry of Planning and Ministry of Environment collaborated to announce an ambitious target of 50% public investment in green projects by 2024/2025. When it comes to mapping of financing flows to SDGs, the Ministry of International Cooperation made pioneering efforts in mapping ODA financing flows with SDGs. I assume, Dr. Rania will touch upon some of this work today's discussion session. Central Bank of Egypt have taken several measures towards mainstreaming sustainability within the Banking system. While the NCW has been working closely with Ministry of Finance and UN Women on gender mainstreaming of national budget. At the same time, there are several efforts globally on accelerating SDG financing, Dr. Mohieldin will touch upon some of these efforts. Hence,
we need convergence of these various efforts to make the next big-step in enhancing SDGs financing in Egypt
. This joint programme hopes to provide an entry point in this direction by providing a cooperation mechanism for us to discuss our ongoing efforts, identify key challenges for SDG Financing and device collective solutions.
Thirdly, Egypt can be a global role-model in developing a clear and credible SDGs financing strategy.
Globally very few countries, especially among large developing countries, currently have a comprehensive SDGs financing strategy. Hence, Egypt can emerge a global success story if it can deliver on a credible SDGs financing strategy. It won't be an easy task. Some key pieces of information are essential for such a strategy, namely, we need to know how much SDGs will cost in Egypt or how much to invest in SDGs ? how much of our current financing flows go towards the SDGs ? finally, what are the new opportunities to enhance financing of SDGs, especially through innovative financing instruments ? This joint programme
focuses on these three questions
by enhancing our knowledge and capacities. I hope that our collaboration on this front will help the Government to capitalize on these building blocks to deliver a solid SDGs financing strategy for Egypt. Excellencies, distinguished ladies and gentlemen, let me once again express the deep appreciation of the UN system for your presence today. We look froward to your valuable insights and guidance.
[1]
https://unctad.org/osgstatement/unctad-economic-development-africa-report-2020-press-conference
Story
07 March 2022
Alone but together.. how Samah and her child, Ali, overcame the COVID-19 hardship
When Samah Abdelaziz and her son Ali first tested positive for COVID-19 in October 2021, she was at least assured that she will accompany her 11-year-old son and will be isolated in the same room. Having no other elders who can take care of the child being positive, and with her husband being outside of the country, staying in at the same isolation room with her son at the UN isolation facility at Hilton Ramses Hotel, guided and managed by WHO Egypt, seemed to be a good and convenient arrangement. It was not until Samah's oxygen level dropped and she had to be transferred to a hospital to make a CT (medical imaging) scan, that things took a different turn. Samah was prepared to have the CT scan conducted and go back to her son, but little did she know that she would have to be hospitalized for the following week or so. Samah describes this time as being very challenging not only physically but also emotionally and mentally. "I have a very special bond with Ali. He is a single child. His father and I are his only source of safety and suddenly he is isolated all alone at the hotel, and I am isolated in the hospital," she says emotionally. "What made me feel better is that my colleagues at WHO were checking on him almost daily. The staff at the facility also took very good care of him," she added. And, thanks to modern technology, Samah was also able to check on Ali through video calls and video chat applications. The doctors and nurses at the facility also kept Ali company, especially the duty nurse, Mahdy Shawky. Ali even drew a little portrait of Shawky as a thank you gesture by the end of his isolation period. Since the outbreak of COVID 19, WHO with its all three levels, the Headquarters, the Eastern Mediterranean Regional Office and Egypt Country Office have been supporting Egypt in its fight against the pandemic. The support included surveillance and response activities, technical expertise, risk communication and community engagement, procurement, capacity building to healthcare workers, pharmaceutical support, and adverse events following immunization (AEFI) monitoring, besides supporting Egypt in its local production of the COVID 19 vaccine, among other activities. All the while, ensuring that essential health and medical services are not disrupted because of the pandemic.