Story
"Youth For Climate" Caravan, a national initiative putting youth at the forefront of climate action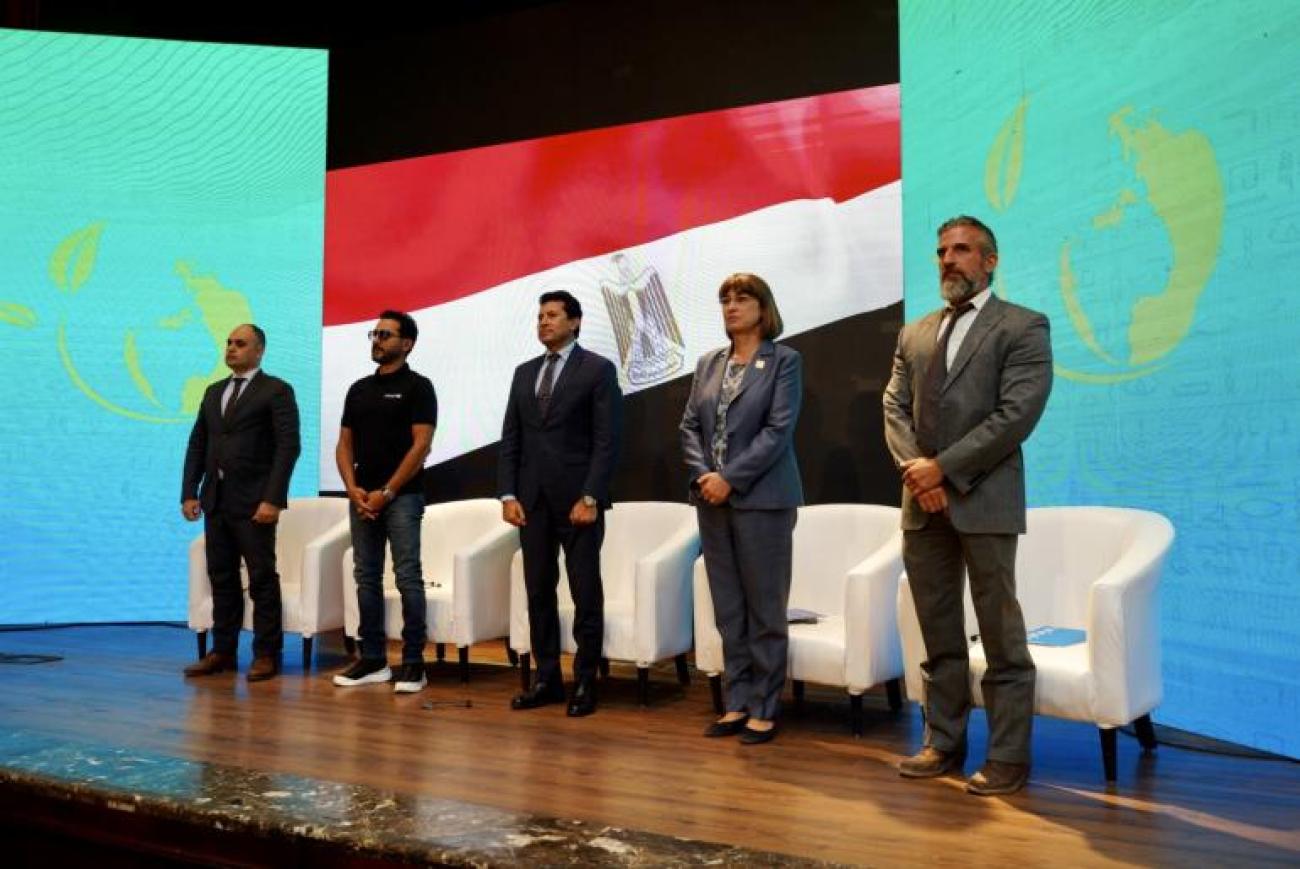 Partners launch a new National initiative to advance youth led climate action
Cairo, 4 September 2022 – At a launch event today, the Ministry of Youth and Sports, Ministry of Environment, and with the support of UNICEF and the United Nations in Egypt a new initiative has been announced focusing on youth engagement in climate action.
The inaugural event was attended by H.E. Dr. Ashraf Sobhy, Minister of Youth and Sports, Dr. Ali Abo Sena, CEO of the Egyptian Environmental Affairs Agency (EEAA) on behlaf H.E Dr. Yasmine Fouad, Minister of Environment, Ms. Elana Panova, the UN Resident Coordinator in Egypt, Mr. Jeremy Hopkins, UNICEF Representative in Egypt, and Actor Ahmed Helmy, UNICEF Regional Goodwill Ambassador.
The "Youth For Climate" Caravan, an equipped mobile van powered by gas, will be led by a team of young people travelling across all the Egyptian governorates kicking off on the 5th of September.
The Caravan will organize various activities during its journey which encompasses capacity building sessions, youth dialogue, competitions, festivals, theatrical performances, bootcamps; as well as, awareness-raising campaigns.
In essence, the Caravan roving the country would encourage young people to be fully engaged in the climate discussion and to pave the way for COP27 scheduled for November in Sharm El Sheikh.
Egypt is keen to enable adolescents and youth and to play an effective role within the framework of international efforts to combat climate change.
Globally, all children face challenges associated with climate change and a degrading natural environment. Some children; however, are more vulnerable to the impacts of climate change than others – depending largely on the availability, quality, equity, and sustainability of key and essential services for children, such as water and sanitation, health care, nutrition and education.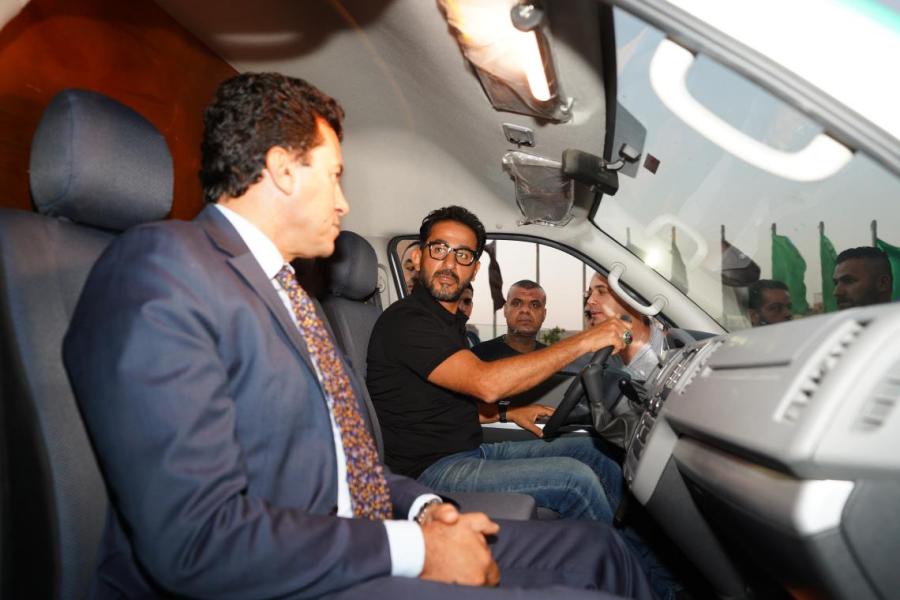 "The Ministry's approach is to educate children and youth about climate change, and the importance of preserving the environment through a package of various projects and programs in cooperation with institutions concerned with climate change and going green, as well as international development partners in light of the directives of President Abdel Fattah El-Sisi", asserted Dr. Ashraf Sobhi, Minister of Youth and Sports. The Minister indicated that the "Youth For Climate" Caravan will be hosted in climate and environment clubs in youth centers located in various governorates. In his remarks the Minister referred that the Ministry of Youth and Sports' will organize the "Children of the World Meet" festival next October, as part of the youth preparatory program agenda for the Climate Summit (COP 27), and the Ministry is also working in liaison with the Youth Department of the Secretariat of the United Nations Convention, and in coordination with a number of local organizations, to implement the Climate Youth Conference (COY 17), the Ministry is also working on organizing a special day for youth concerned about climate and to recognize volunteer's efforts which would be held during the COP 27 summit.
Dr. Yasmine Fouad, Minister of Environment, said, "I appreciate the tireless efforts of the Ministry of Youth and Sports to promote the involvement of conscious and educated youth not only from Egypt, but also from around the world in international climate action. I also emphasize on the outstanding cooperation of all development partners; especially, all the bodies, organizations, and programs of the United Nations, which seek to develop and advance environmental and climate work and achieve sustainable development goals at all economic, social, and environmental levels.
The Minister stressed that "Egypt seeks, through the COP27 Sharm El-Sheikh Climate Conference, to address a range of topics in its presidential program, such as food and water security, biodiversity, waste management, as well as equal transition of energy. The slogan of the COP27 Sharm El-Sheikh Climate Conference is "Execution Conference" as we aim during the conference to raise ambitions through viable youth ideas."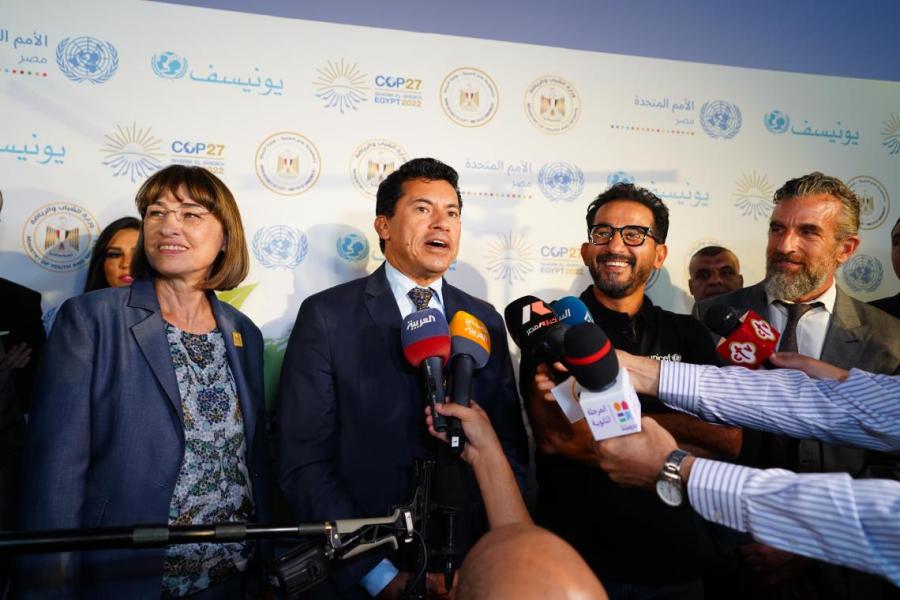 Ms. Elena Panova, UN Resident coordinator said "Climate Change Caravan is a forward looking and inclusive youth-led climate action initiative. It brings climate-related local solutions from across the country and provides a space for consultations by and for young people in Egypt." She added, "the engagement of young people comes at the heart of the UN's work in Egypt. We are committed to stand by their side as they aspire for a more prosperous and resilient Egypt."
Mr Jeremy Hopkins, UNICEF Representative in Egypt said, "the climate crisis has exposed children, on every continent, to greater risk of more destructive climate hazards, from heatwaves and droughts to cyclones and flooding, as well as the increase in the pollution levels in water and air which makes us all extremely worried. We are proud to be part of the Youth 4 Climate Caravan which will travel across Egypt with stops along the way to listen to children and young people express their concerns, ideas, and recommendations on what we can do to adapt to, mitigate and slow down climate change. Also, I am glad that the youth are participating in providing interactive activities with all the young people across the Caravan journey to make sure that the voices of young people in Egypt are heard at the Climate Change Summit. I want to extend my gratitude to the GoE for their relentless efforts, and to also thank the USAID and the Swiss Development Cooperation for their substantial support".
A recent World Bank study found that up to 132 million people worldwide could be pushed into extreme poverty by 2030 as a result of climate change – 44 million due to its impact on health, 33.5 million due to the impact on food prices and 18.2 million due to the impact of disasters.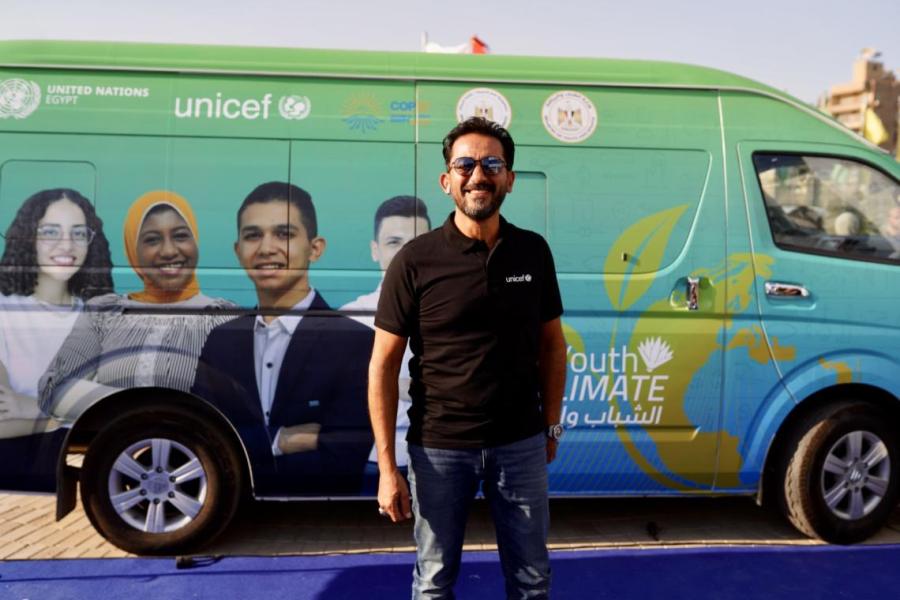 Ahmed Helmy, Actor and UNICEF Regional GWA said, "climate change is becoming an important challenge just like other challenges that we face nowadays. It is necessary to consider its impact and strive to overcome the dangers of climate change, not only for our sake, but for the sake of our children and for all living organisms that have the right to live and breathe. In a healthy climate created by God for us, it's our duty to preserve it. To realize the extent of the crisis, we must first be informed about it so that we can seek in quick steps means to solve it and avoid its occurrence or, more precisely, its aggravation. This will only happen through education and awareness starting from an early age. These are integral elements of the global and local response, as raising awareness along with education play an important role in developing the mind and knowledge for the renaissance of societies, namely the youth and adolescents. It's time to understand our environment, take care of it and protect it against the harmful effects of climate change. All this for us to live a healthy and green life that can adapt to climate change and mitigating its effects. This youth-led initiative is a huge and comprehensive collective effort to advance environmental education and climate action for future generations."
This National initiative launched today offers adolescents and youth the knowledge, competencies, and opportunities to understand, care for, and protect their environment as active agents against the detrimental effects of climate change.
UN entities involved in this initiative
RCO
United Nations Resident Coordinator Office
UNICEF
United Nations Children's Fund