Story
Uniting for gender equality in Egypt's date palm sector

Since August 2022, UNIDO has been providing employment and technical skills training for women in the date and medicinal and aromatic plants sectors.
As the sun rose over the date palms of Minya, southern Egypt, a bus carrying women arrived at Greens Farm for a day's work. In Egypt, the date palm sector is a significant source of income and has traditionally been dominated by men. However, this year at Greens Farm, women are working alongside men in the processing of Majdoul and Barhy dates, marking a positive shift towards greater gender diversity and inclusion in the industry.
Khaled El Habashy, co-founder and manager of Greens Farm, has been a driving force for gender equality in the workplace. When he learned about UNIDO's Rabeha training program aimed at improving the skills of women seeking employment in the date sector, he seized the opportunity to support the initiative. As a result, Greens Farm has welcomed women as employees to support pre-harvesting dates for the first time since its establishment in 2016.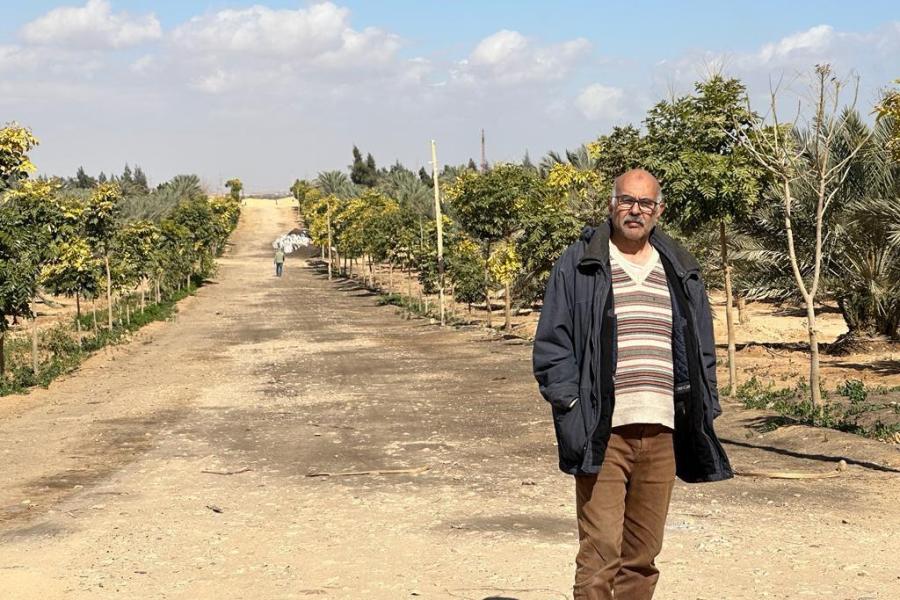 "The UNIDO/Rabeha team suggested the idea of hiring women, and I was excited to give it a try," says Mr. Habashy. "Now that it has been so successful, I want to hire more women."
So far, Mr Habashy has provided seasonal employment to 37 women trained through UNIDO's Rabeha programme. When the harvesting season begins later in the year, he plans to rehire them along with an additional 60 women. This is when the women will have the opportunity to apply their new technical skills in post-harvesting, including drying, sorting and packing.
"The women have proven their skills in their roles. They are also efficient and dedicated to their work," says Mr. Habashy enthusiastically.
While Greens Farm used to employ only men in these roles, Mr Habashy observes that, like him, the male employees "are encouraging of the women's work and cooperative to ensure a supportive workplace". The manager has also gone to great lengths to improve the safety of female employees, hiring a bus to transport them to and from the nearby village of Abo Qrien.
Since August 2022, UNIDO has been providing employment and technical skills training for women in the date and medicinal and aromatic plants sectors. To date, 150 women from the Minya and Beni Suef governorates have completed the training, which has not only improved their technical skills in pre- and post-harvest activities but also helped them understand their roles as employees and what a supportive work environment looks like. The training will continue until June of this year, with the goal of upskilling a total of 300 women and matching 150 of them with job opportunities.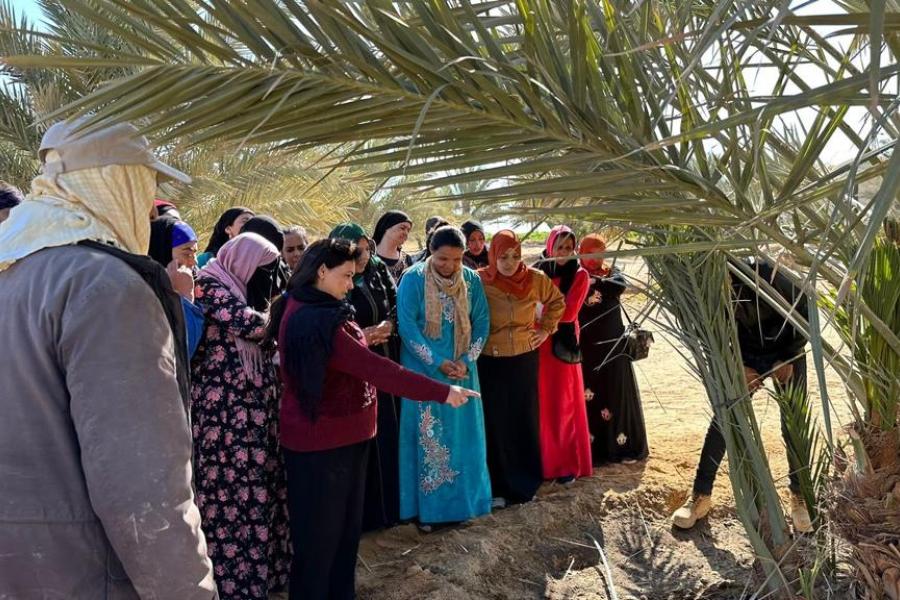 Azza Mohamed and Yasmin Mohamed both participated in the UNIDO/Rabeha training and secured their first ever jobs at Greens Farm after demonstrating their skills and work ethic.
"We learned many new skills in the training and that's why we got jobs. When we came to Greens Farm, we felt confident that we knew what we were doing. We took responsibility for our tasks and are very proud of ourselves." – Yasmin Mohamed
UNIDO's skills training and job placements have helped increase household incomes - a timely result given the difficult economic conditions in Egypt.
Azza is a single mother of three and the sole breadwinner for her family. Despite the challenges she faces, she has used her strong management skills to balance her work at Greens Farm with her domestic responsibilities. As a result, she has been able to generate a vital income that has greatly improved her family's financial and mental well-being.
"As my income changed, I began to feel more confident. I've invested in my children's education and can now pay for English tutoring. I can also buy clothes for my daughters, so they have new things like their friends." – Azza Mohamed
UNIDO/Rabeha's trainings have helped several women from the village of Abo Qrien gain employment, either directly through the training or by the trained women passing on their knowledge to others in their community. Azza and Yasmin are such women who have successfully found jobs for themselves and two other women at Greens Farm.
Gender equity is not just a women's issue, it is a human rights issue that requires collective action. The examples of Khaled El Habashy, Yasmin Mohamed and Azza Mohamed, demonstrate that when people come together to support women's rights and access to work, shared prosperity and gender equality can be realised. Greens Farm has also shown that engaging male leaders is crucial to creating a workplace that is inclusive and welcoming to women. When communities unite to challenge the status quo and promote gender equality, we can move forward together towards a world where everyone has equal opportunities to thrive.
Employment training and job matching is provided within the framework of the UN Women - UNIDO Joint Programme, "Women Economic Empowerment for Inclusive and Sustainable Growth in Egypt – Rabeha", implemented in partnership with the National Council for Women (NCW), the Ministry of Trade and Industry (MoTI) and the Micro, Small and Medium Enterprises Development Agency (MSMEDA), with the generous support of Global Affairs Canada (GAC). The Joint Programme aims to support the economic empowerment of more than 6,300 women through increased access to employment and/or self-employment opportunities.
UN entities involved in this initiative
UNIDO
United Nations Industrial Development Organization